Overview of functionalities
The
Business Repository
provides the required framework for business processes modelling, with built-in SoD rules design functions. Business risks and associated Controls are documented and assigned to Business Processes and potential conflicts. Several releases of the Business Repository can be maintained.
User Provisioning
module is a workflow based solution for access requests management. The highly customisable workflow provides the required flexibility for your Company to design secured validation and approval processes in this area.
The
Design Factory
is the central platform for users & authorizations management. With innovative, powerful and industrialized functions, this module enables standardization of users & authorizations design across your ERP systems, ensuring both business governance and IT guidance.
Our
Remediation
solution is unique on the market. It gathers all the required functions for quick and controlled users remediation. Users are remediated through simple clicks using a graphical approach. ADINEO is the only solution on the market offering cost and time effective remediation methodology.
The
Audit
module supports best-in-class audit processes, covering the full range of requirements for complete ERP systems review. ADINEO provides built-in reports and queries that further accelerate audit processes.
The
On-Going Compliance
set of functions encompasses effective and automated day-to-day users activity review within your ERP systems. It automates business controls review, and detects high risks occurrences within your systems.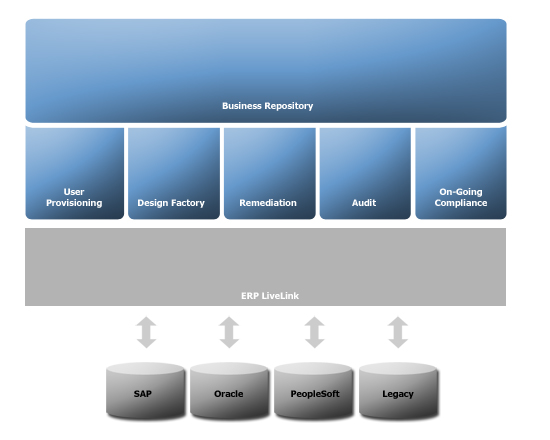 From Compliance and Business repository definition down to the level of ERP authorizations and users audit, remediation and maintenance, ADINEO supports Companies achieve compliance in an integrated end-to-end process. It provides the tool, the methodology and the integration required to achieve ERP compliance within time and budget.
Covering the full set of Compliance requirements through integrated and easy to use functions.
ADINEO built it.
Solutions > Overview

Copyright 2005-2006. ADINEO. All Rights Reserved.